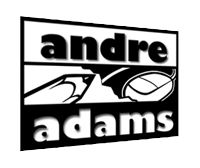 Born in Minneapolis, Minnesota, in 1974, Andre's talent for creating artwork became apparent very early on,
as one of his crowning achievements included winning first place in a nationwide
drawing contest at age 7 for Cricket Magazine, beating out many kids years older than him.
This event pretty much left no doubt for Andre as to what he wanted to do when he would grow up.
This passion transgressed throughout his childhood and early adult years,
as Andre would often succumb to the temptations of daydreaming and doodling in class,
missing out on practical matters, such as the quadratic equation.
In 1992 Andre attended AIU (American Intercontinental University), in Los Angeles.
He graduated in 1996 with a Bachelor's of Fine Arts with emphasis in Illustration & Design.
Following his school years, Andre moved to beautiful Monterey, California, where he began
freelancing for newspapers, magazines, greeting card companies, ad agencies,
local art directors and companies worldwide, taking on a wide range of projects, from
children's books and photorealism to tri-fold brochures and corporate logos, using traditional
pen & ink media to digitally rendered compositions using Photoshop, Illustrator, Poser, Flash, etc.
Andre also contributed political cartoons to local newspapers, volunteered for local community events
such as First Night Monterey 2002, launched a comic strip entitled The Adventures of Dr. Bob
(a medical malpractice themed cartoon), and of course continued his doodling.
Actively involved in the artist's community, he became a member of the AIGA and the National Cartoonist's Society
and has also attended the world famous ComiCon in San Diego and various animation festivals in the States and Europe.
In 2002 Andre worked full time as a Graphic Designer for Excelligence Learning Corporation,
a children's educational company, where he designed ads, catalogs, cover comps, templates, and worked closely with
the marketing & product development teams. He also worked as a Visual Designer for Silicon-Valley's leading entertainment
magazine in San Jose, The Wave Magazine, where he designed ads and published the company's website;
as a 2D/3D animator for L3 Communications, where he created 3D animated talking avatars and interactive animations
that served as teaching tools for the Army; and currently as an independent contractor &
Creative Director for The Cartoon Express.
Today Andre lives in California with his wife Perrine and 2 boys, Sasha and Luka.